Alda Ly Designs Flagship Location of HealthQuarters, a Holistic Health and Wellness Center in NYC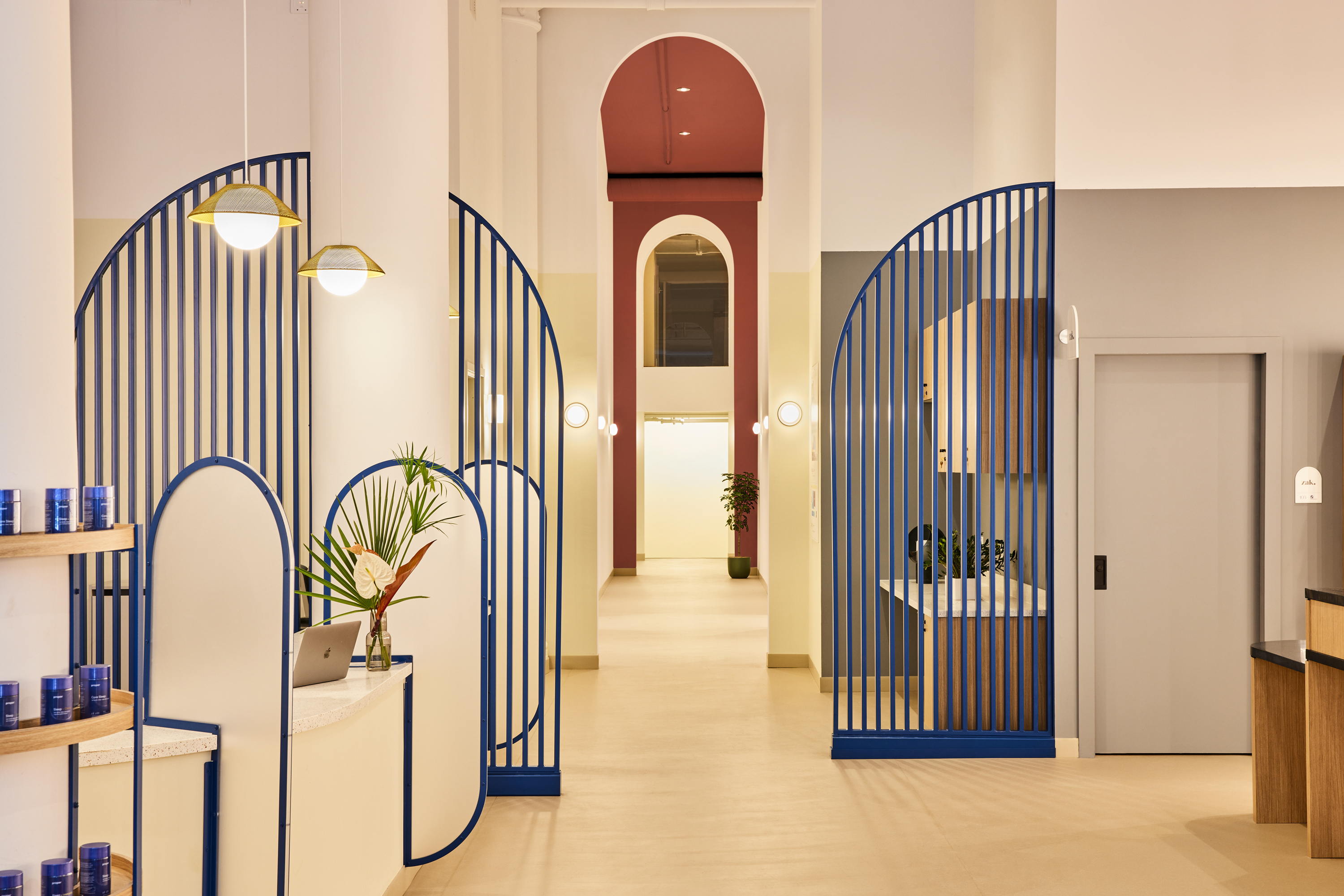 New York, NY—Alda Ly Architecture (ALA) has designed the flagship location of HealthQuarters, the new headquarters for your health now open at 632 Broadway New York New York 10010. HealthQuarters collaborated with the Mount Sinai Health System and independent medical and wellness practitioners to bring a full range of preventive health services under one roof, where a patient can receive everything from medical diagnoses and recovery care to dental alignments and acupuncture. In response, ALA has transformed a 15,000-square-foot loft spanning three floors in NoHo, Manhattan into a comforting, approachable, and intuitive network of care environments, each designed with a honed sensitivity to distinct programs and their users. The HealthQuarters NoHo flagship will serve as a blueprint for future HealthQuarters locations. 
In the past, ALA has brought their expertise to creating innovative healthcare and wellness spaces for clients like Parsley Health, where optimizing patient experience drives the design process. The studio's concept for HealthQuarters continues this pursuit, while expanding it to encompass a more holistic healthcare experience. "We love that HealthQuarters approaches not just a small piece of the industry, but rather the entire health and wellness journey of a person," says ALA founder Alda Ly. "It's also exciting partnering with a team that so elegantly balances the rigor and expertise required in the industry with the accessibility of a friendly neighborhood coffee shop—it's very much the same balance we try to find as a design studio."
ALA's primary goal for HealthQuarters' flagship location is to bring the concept of care to user experience at every scale. From layout and circulation to waiting lounges, x-ray rooms, and coat hooks, all choices were driven by biophilic design—a set of strategies that draw from nature to enhance people's mood and cognitive performance. HealthQuarters design tenets of compassion, clarity, expertise, integrity, and courage also informed the space throughout.
"For us, the key principle of 'compassion' is all about meeting people wherever they are. When someone's feeling minty fresh and upbeat after a dental treatment, we wanted to design bright and active spaces to meet them there. However, we also wanted to create spaces that could hold and comfort someone who may have gotten somber news about their health or the care of a loved one. We think providing that diversity of choices and experiences in the space is what holistic care is really all about," says Ly.
Across the flagship space, an overarching atmosphere of brightness, openness, and navigability—or clarity—reflects HealthQuarters' mission to empower people with choices on their healthcare journey. The first floor entryway and adjacent welcoming lounge were envisioned as a luminous, cozy foyer that visitors could duck into during a gloomy Manhattan downpour. This area sets the tone for the large, multifaceted space that spreads across three floors of the historic Noho building, originally built in 1900. Common areas and circulation corridors are bright and airy, clad in warm materials and hues: custom white oak millwork with soft, curving edges; alabaster-toned walls; terrazzo tabletops; and blush, terra cotta, and ocean-blue accents. More intimate, private nooks and care rooms extend off these areas, and are filled with deeper hues and more enveloping forms. While the first floor is expansive, complete with very high ceilings, ALA's organization and appointment of the space makes it feel intimate, welcoming, and warm in stark contrast to more traditional healthcare offices. ​ ​ 
Throughout, ALA employs niches, frames, and thresholds to define different uses within open spaces, rather than sequestering them with walls or other more rigid physical barriers. For instance, at a medium scale, slatted, half-arched metal screens distinguish different programs in the welcome lounge, while still allowing for long views across the plant-filled room. On a larger scale, double-height arches indicate transitions from one program to the next—for instance, from the welcome lounge to the corridor, or from the exam wing to the wellness and recovery suite. These thresholds create a dynamic experiential journey through the space that acts as a kind of "spine" connecting the varied service offerings, including general medicine, mental health, dentistry, ophthalmology, acupuncture and massage, nutrition, physical therapy, and more.
"Because HQ pulls together so many different partners and service offerings, it was important that we find a way to avoid the space feeling like a 'mall of healthcare,'" says ALA's Marissa Feddema. "We developed the method of creating frames and thresholds as a way of uniting these brands into a single HealthQuarters language." 
At the individual scale, modular furniture was conceived around the semi-circle—a welcoming, inclusive shape that allows for seating on the concave side and separation on the convex side. All seating placed centrally in a room was designed with a back, to maximize comfort and minimize any feelings of vulnerability. Additionally, custom planters were integrated into a selection of the modular furniture, bringing in another biophilic element. All furniture is upholstered in bleach-cleanable, wipe-clean fabrics for durability, cleanliness, and easy maintenance. Across the flagship, nearly all of the millwork is custom and designed by ALA as a modular system that can flex and be deployed in a number of ways as HealthQuarters grows. 
"The HealthQuarters team built such an amazing in-house brand that it was the perfect palette for us to build from. From there, we built a collection of mood boards that accented those brand colors and embodied the brand qualities in a way that felt balanced but still clear and iconic," says ALA's Tania Chau. "Our material palette went beyond colors and patterns to a range that ignites other senses like scents, sounds, and textures. By approaching the design as an entire sensory experience, we were also able to follow some of the science-backed biophilic principles to think not just about what the space looks like, but also how it makes people think, feel, and behave."
Photos by Nicole Franzen.
Project credits:
Project Name: HealthQuarters Flagship
Client: HealthQuarters
Location: 632 Broadway New York City, NY 10012
Area: 15,000 SF
Program: Healthcare
Design Architect and Interior Design: Alda Ly Architecture Team: Alda Ly, Marissa Feddema, Tania Chau, Talitha Liu, Kolby Forbes
AOR and Lighting Design: CallisonRTKL 
MEP Engineering: 2L Engineering D.P.C.
Contractor: BH Design Group