Alda Ly Architecture Designs TALEA's Vibrant West Village Taproom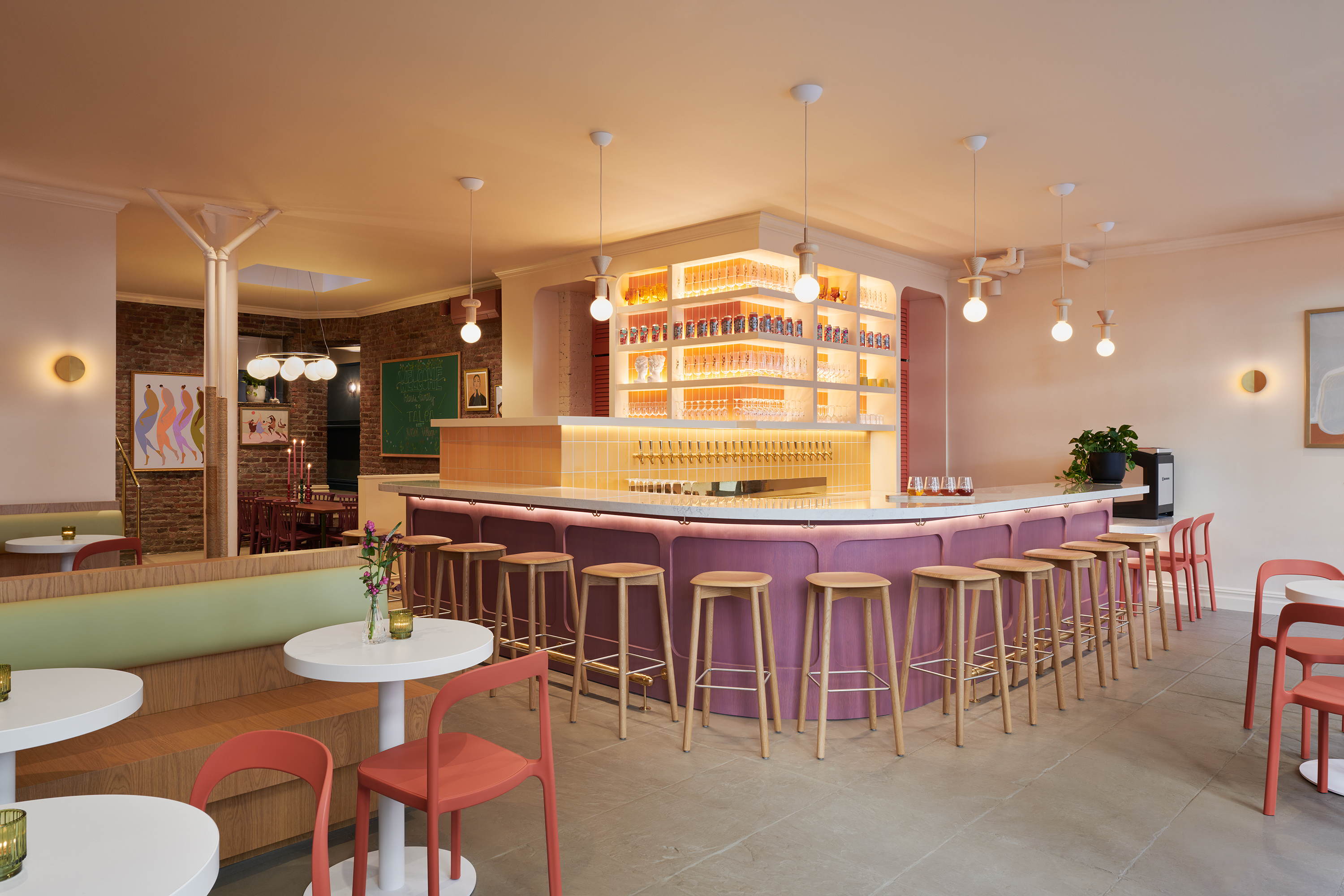 Alda Ly Architecture (ALA) has designed the third "taproom" for TALEA, the first female and veteran-owned production brewery in NYC. A cafe by day and bar by night, TALEA's West Village taproom will be its first in Manhattan, with two locations already up and running in Brooklyn. The concept for this new location is inspired by the history of the neighborhood and TALEA's unique founding story of two women breaking ground in the overwhelmingly male-dominated industry of brewing. As such, this new taproom on Christopher Street reclaims the traditionally masculine identity of a West Village saloon to celebrate voices of women and LGBTQ+ communities in the Village, all while serving Talea's popular sour brews in an elevated, vibrant space.
Upon entering the taproom, visitors encounter an open dining room anchored by a bar and flexible seating, visible via the street-facing windows. Says Alda Ly, Founder and Principal of ALA, "We opened up the space to provide as much open area for the front dining room, and brought the bar front and center to highlight the taps with their extensive selection of beers. We wanted the bar to be a welcoming beacon for all people in the neighborhood." Walking past the bar, visitors will reach the "The Revolution Room", a place for groups of 8-10 to scheme, hang, and gather. And finally, at the very back of the space, is a secret room nicknamed "The Snug", an ode to spaces that were once designated secret areas in speakeasies and saloons for women to gather and organize in public space. As such, this West Village taproom can be frequented for both work and play. 
Classic saloon detailing like exposed brick, decorative molding, and brass accents are brought to life with fresh finishes like saffron and mango tiling, quartz countertops, and colorfully stained oak to speak to TALEA's bold and fun personality. ​ "It was important to us to capture the spirit of TALEA in a space that felt elevated but also very warm and welcoming." ALA's project Director Marissa Feddema says of the interior palette and details. Immediately patrons are welcomed by a mauve-stained white oak barface topped with stone and complemented by tiles that cascade down the back tap wall in a few of TALEA's bold brand colors. An array of seating which includes red Industry West Scroll dining chairs, mauve Article Rus chairs and a stained oak banquette accommodates a range of socializing, drawing patrons deeper into the taproom. The bar is lit by Junit pendants made of oak from Schneid Studio.
"The space definitely felt like it had history and a past life" says Feddema. "Originally built in 1920, the building has been a part of the fabric of the neighborhood and a key part of the iconic Christopher Street elevation for a long time."
The spiraling staircase of the original building is tucked behind the bar across from a transitional seating area that leads to the "revolution room" and restrooms. The "revolution room" is a flexible teamwork and dining space ornamented by a Nuura Miira 8 Oval chandelier. Across the hallway, the restrooms themselves pay homage to the rich history of the surrounding area, peppered with images of local prominent residents and gender activists through the years – patrons can capture some of that history with a mirror selfie. Continuing down the hallway, a visitor would soon find themselves in the snug – a cozy intimate back space of limewash painted walls, an olive velvet banquette, and orange plush lounge chairs that give the space a tactile memory. The subtle jewel of the taproom, the snug is lit by brass dottie sconces and features a reclaimed vintage fireplace mantel. It is available to rent for private events. 
A fourth TALEA taproom and second Manhattan location designed by ALA is slated to open in late 2023 near Bryant Park. 
Photography by Brooke Holm:
Project Credits:
Architect & Interior Designer: ALA (Alda Ly, Marissa Feddema, Sheridan Treadwell, Marlee Anderson)
MEP Engineer: Tan EngineeringGC: Aerial Design & Build
Materials & Finishes
Finishes:
Daltile Natural Hues wall tile, Saffron color 
Nemo Tile Vogue wall tile, Mandarino color
Mauve stained white oak bar face
Stained white oak banquette
Brass accents
Quartz countertops
Venetian plaster walls (snug/private dining room)
Bedrosians mosaic tile forming brand logo mark
Furniture:
Reclaimed vintage fireplace mantel
Industry West Scroll dining chairs, red
Article Rus chairs, mauve
Article Hendry stools, olive
Hay Palissade Cone tables, olive
Orange plush lounge chairs
Lighting:
Schneid Studio Junit pendants, oak
Nuura Miira 8 Oval chandelier
Visual Comfort Dottie sconces, brass
Art/styling:
Artwork featuring women and West Village history 
Chalkboard
Brass frames