Alda Ly Architecture Designs New York Flagship for Alto, a Contemporary Neighborhood Pharmacy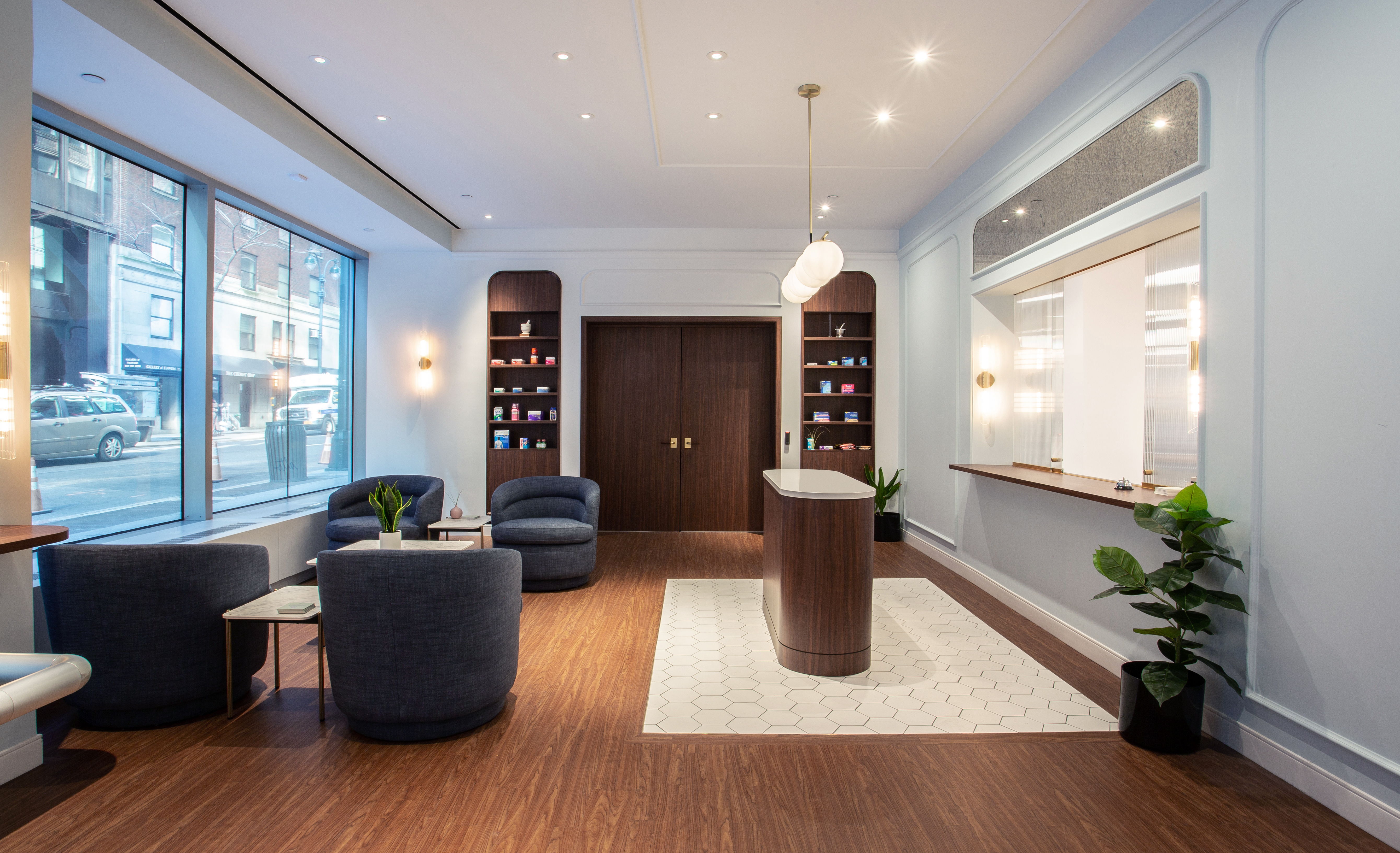 New York, NY—Alda Ly Architecture (ALA) has partnered with Alto Pharmacy to design the telehealth pharmacy's flagship New York City location, which provides a uniquely personalized experience tailored to female fertility services. Throughout the space, ALA's design fuses Alto's branding with details inspired by historic apothecaries. The result is a warmer, more human pharmacy, instead of the typically cold, clinical, and corporate contemporary pharmacy space.
Based in New York, ALA has made a name for itself through past partnerships with innovative startups and healthcare companies such as The Wing, ThirdLove, and Parsley Health. Their collaboration with Alto continues this trajectory and also marks new territory—it is the studio's first pharmacy project. 
ALA began the design process for Alto's NYC flagship last spring, several months into the pandemic. The prospect of devising a groundbreaking pharmacy known for personalized patient support and fast medication delivery intrigued the firm, especially during a health crisis. "During the lockdown period, the service Alto provided became particularly valuable, and we wanted to help design a space for them to help them succeed in the New York market," says ALA founder and principal Alda Ly. "We also loved their brand position and emphasis on human connection. We're passionate about helping brands—especially startups—create signature spaces."
Alto's New York flagship pharmacy manifests these goals. The layout is defined by fluid transitions between public and private areas, with an emphasis on ease and accessibility. The front door, which faces East 40th Street, opens directly into the open-format common space, where patients move seamlessly between a large waiting lounge, small seating area, retail display, and reception area/pharmacy counter. A custom ribbed glass sliding window, similar to those in historic New York apothecaries, connects the public spaces to the back-of-house, allowing customers to see the pharmacists at work—a move that encourages connection and builds trust. Doors to the right of the pharmacy counter lead to the more private consult and conference rooms, designed for personalized conversations and care. 
Throughout the New York pharmacy, strategies are applied to encourage comfort and calm. Colors and materials were chosen to align with Alto's branding while also alluding to nature. The rounded service desk is clad in a wood-look laminate topped with white and grey veined Caesarstone, and the meeting tables are walnut and white marble. The waiting area is painted sky blue (Benjamin Moore Polar Ice), moldings are cloud white, and the conference and consultation rooms are pale green (Benjamin Moore Lime Ricky). Lighting is warm and diffused throughout, with brass-accented pendants and sconces used to create interest and depth with another nod to old NYC apothecaries.
To convey themes of healing and human touch important to Alto's brand, ALA also employed friendly, soft forms and natural materials with inherent structure and support. "This both encourages reassurance and comfort, while at the same time conveying safety, stability and reliability," explains Tania Chau, ALA's Director of Interior Design. Upholstered in a soft palette of blues, the selection of high-backed chairs and couches that anchor the waiting lounge create protective quiet spaces, embodying the idea of refuge. This approach is especially important given Alto New York's female fertility focus. "Fertility treatments can be grueling, with some treatments requiring shots daily for 10-12 days. Knowing that, we wanted to design a space that would make women feel comfortable, supported, and however private or public she wanted to be," says Chau. ​ 
ALA also celebrated Alto's role as a neighborhood cornerstone by incorporating antique mirrors, decorative moldings, shelving, and tile that allude to historic apothecaries and their role as community gathering places, all while retaining a clean, contemporary aesthetic. "We see the space as a physical extension of Alto's brand, and we consider both the experiential as well as visual qualities of the brand when we design the space. Clear circulation; visual transparency from outside to the working pharmacist; connecting modern and traditional; soft, supportive forms and shapes; and the signature blue and green palette all help create the Alto experience," says Ly. 
"Just as your local pharmacy or store is a cornerstone of your life and your neighborhood, Alto is deeply connected and committed to your health and your community. To foster that connection and encourage approachability, we employ visual transparency at key moments," she continues.
Photos by Stephanie Hedges.
Project Credits:
Project: Alto Pharmacy
Client: Alto
Location: 100 Park Ave, New York, NY 10017
Area: 5,000 SF
Status: Projected completion December 2, 2020
Program: Retail & office
Architect & Interior Design : Alda Ly Architecture PLLC
Team: Alda Ly, Tania Chau, Marissa Feddema, Daisy Hook
Contractor: Michilli Inc. 
Lighting Design: ml studio, inc. 
MEP Engineer: MG Engineering D.P.C.