Alda Ly Architecture Designs New Showroom for HBF in Manhattan's Flatiron District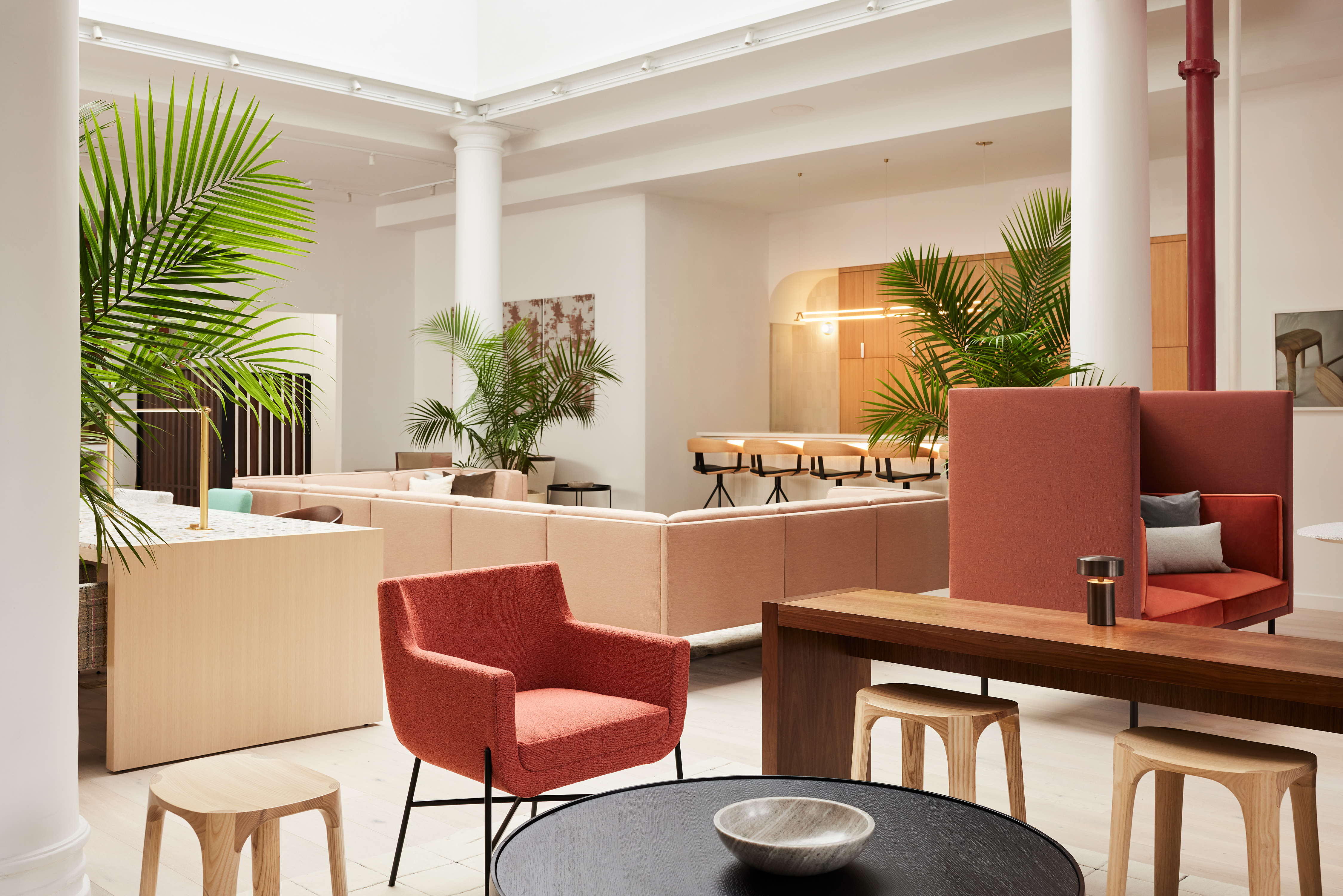 New York, NY—Alda Ly Architecture (ALA) has designed the new showroom for contract furniture and textiles company HBF in New York City's Flatiron District, located at 155 Fifth Avenue, 6th floor, in collaboration with HBF and Travis Clifton of ​ T Clifton Design. This new showroom draws from ALA's deep experience designing health and wellness spaces, and workplaces, to create a welcoming environment that is flexible in its approach and application. Bringing a hospitality experience to their design, ALA injected a sense of approachability, welcome, and care to the space. 
Designed around a dramatic existing skylight in the center and a series of windows looking out to the Manhattan skyline in the back, the primary showroom space consists of a series of curated vignettes that serve as specific zones for lounging, meeting, and flex space, as well as a textile niche and showcase area for new products, all populated with HBF furniture and textiles. "We created this sense of compress and release throughout the space. When you enter the foyer from the elevator, it's a more minimal, quieter space with a lower ceiling height, then you turn the corner and boom, there is a skylight and this brightly lit, open space in front of you," says Tania Chau, ALA Director of Interior Design. Continues Chau, "As you get deeper into the space, you come into this open area that showcases a lot of the lounge furniture, and then by the window we created a different setting for a product gallery and a more specific moment to interact with the furniture."
The lounge area is positioned directly underneath the skylight and is partitioned on two sides by a slatted wooden divider. The sectional sofa upholstered in blush HBF Textiles fabric surrounds low tables, ideal for meeting or enjoying a coffee or drink. Directly across from the lounge area is a long bar with seating for socializing and events, behind which a counter and sink for food prep and a wall of cabinets is framed by a soft arch and pendant lighting. To maintain the clean lines of the bar wall, appliances were all specified as undercounter and hidden below the pill-shaped bar island. 
Adjacent to the lounge area is a textile niche devoted to HBF Textiles, featuring a focused display where textiles hang on pegs, and a counter space in the front for ease of working. An adjustable LED lighting fixture installed overhead allows designers to view products in varying types of lighting conditions. This feature gives designers the ability to adjust the color temperature and brightness of the lighting to see how their chosen palette changes in different lighting conditions, providing a true understanding of what the color and materials will look like.
Situated on the other side of the lounge area, is a long terrazzo table set up with Juniper Lighting's Thin task lamps that provides space for co-working, group meetings and product review. ​ Behind the table, a conference room and smaller offices are enclosed in demountable glass walls from Allsteel, remaining transparent to keep the feeling of community intact, but providing sound privacy where necessary for meetings and calls. At the back of the space, seating pieces from HBF's furniture line are showcased on a raised platform in front of the long stretch of windows, accompanied by the view of Manhattan's cityscape. The existing columns in the space are marked by leafy green potted plants, bringing a sense of nature and calm. "We just wanted it [the space] to feel like an oasis in New York City, so we focused on bringing the outdoors in, bringing the daylight in, and making it feel lush," says Alda Ly, ALA Founder and Principal.
At the back, a "wellness hallway" leads to one of the bathrooms, and a Mothers' Room, ideal for nursing and pumping but also for working and respite for all, with a window looking out onto the city. "We wanted to create a space that fulfilled and supported our needs as working mothers with young children, with a sink for washing pump parts and a variety of seating options so you could sit in a cozy chair or work at a desk in a space that was beautiful, comfortable and approachable", says Ly. Adds Chau, "With its full wall mirror and flattering sconce lighting, it also doubles as a dressing room and vanity area for anyone needing to get ready for an after work event." The hallway is another compression moment with an intentionally low ceiling height and a curved soffit to make it feel cozier and provide a contrast from the main showroom skylit space. The color palette in the hallway, bathroom and Mothers' Room is also darker and moodier in rich burgundy, blush and deep blue green tones, with soothing patterns in wallpapers from Calico Wallpaper and Flat Vernacular, a deliberate move on ALA's part to create different experiences throughout a singular environment. The secondary bathroom provides a distinct environment and is smaller in size and utilizes lighter tones and a soothing, pastoral palette.
The overall space is conducive for both showcasing HBF's extensive line of contract furniture and textile products as well as hosting events and programs, and being both a functional workspace and welcoming respite for designers and partners alike. 
Photography by Pippa Drummond:
Project Credits:
Client: HBF
Address: 155 Fifth Avenue, 6th floor, New York, NY 10010
Interior Architecture and Design: Alda Ly Architecture PLLC
Project Team: Alda Ly, Principal; Tania Chau, Director; Sophia Chesrow, Project Manager; Florence Méthod, Designer
Materials and Finishes:
Powder Room:
Wallpaper - Glamora Matinee Green
Wall Tile - Nemo Cadence Chalk 2 x 8
Paint - Benjamin Moore 506 Silver Sage 
Mirror - Rejuvenation Pill Metal Framed Mirror in Brass
Lighting - Juniper Thin Retro Float Sconce
Textile Library:
Adjustable Ceiling Fixture - Dresswall Casambi TW Dresswall Tunable White Flush Mounted
Bar/ Pantry:
Wall Tile - Nemo Cadence Chalk 2 x 8
Pendant: Juniper Thin Multiples Triad 36"
Sconces: Allied Maker Mini Orb 3-5
Large Meeting Room:
Pendant: Juniper Metropolis Suspension 36"
ADA WC:
Wallpaper - Calico Aurora Oblio
Wall Tile - Nemo Cadence Raven 2" x 8"
Floor Tile - Daltile uniform Concrete Black Matte 12" x 24"
Paint - Benjamin Moore1259 Beaujolais
Mirror - Rejuvenation Pill Metal Framed Mirror in Brass
Sconce - Juniper Metropolis Wall Sconce 26", 
Ceiling Fixture - ED Ellen DeGeneres Asher Flush Mount Ceiling Light
Mother's Room:
Wallpaper - Flat Vernacular Swallowtail jungle Evening
Paint - Benjamin Moore 1652 Navy Masterpiece
Lighting - Juniper Thin Retro Float Sconce
Wellness Hallway:
Paint - Benjamin Moore1259 Beaujolais
Paint - Benjamin Moore 1187 Ciao Bella
Mirror - Rejuvenation Arched Metal Framed Floor Mirror in Brass
Wood Flooring throughout: PID Flooring Nijmegen White Oak Engineered flooring
Partition: Allsteel Beyond architectural walls
About ALA
Alda Ly Architecture (ALA) was founded in 2017 when groundbreaking co-working platform The Wing tapped Ly to design its East Coast and California locations. ALA continues to serve a growing number of entrepreneurs and startups as well as established organizations looking to rethink traditional retail, healthcare, office, and cultural spaces. ALA is a recognized thought leader in biophilic design and has been featured nationally and internationally in publications such as Metropolis, Contract, Interior Design, etc.
The New York-based studio's long list of clients includes Bloomberg, Rent the Runway, Red Bull, Christian Louboutin and women's healthcare platform, Tia. 
While ALA's projects range from those with multi-million dollar construction budgets to start-ups building their very first headquarters, they all share ALA's minimalist and playful design vocabulary, and seamlessly combine comfort, wellness, smart planning and fresh interior design concepts.
To arrive at these thoughtful, custom solutions, ALA treats each as an opportunity to foster a client's creativity. Because the studio often gives form to services and business models that have few spatial precedents, it starts each project with a discovery phase in which an organization's founders, team members, and users share their individual experiences with that brand; ALA's ethnographic research becomes the basis of programming and functionality, as well as concepts for layouts and finishes.
Ly and her team pride themselves on deep listening and hands-on collaboration in this process, and the studio is committed to expressing every commission's potential within the constraints of time and budget.
Alda Ly Architecture is a certified Minority and Woman-owned Business Enterprise (M/WBE) with NYC.
About HBF
Part of a two-hundred-year legacy of furniture and textiles manufacturing in North Carolina, HBF is recognized for its timely design sensibility and timeless craftsmanship. By joining forces with leading industry designers, HBF is committed to creating ingenious contract furnishings with an emphasis on craft, comfort, and sustainability. HBF's mission is to continuously inspire its core audience of A&D specifiers as design arbiters and trusted partners in the realization of ambitiously considered commercial interiors.