Alda Ly Architecture Designs Flagship Playspace and Retail Store for Healthybaby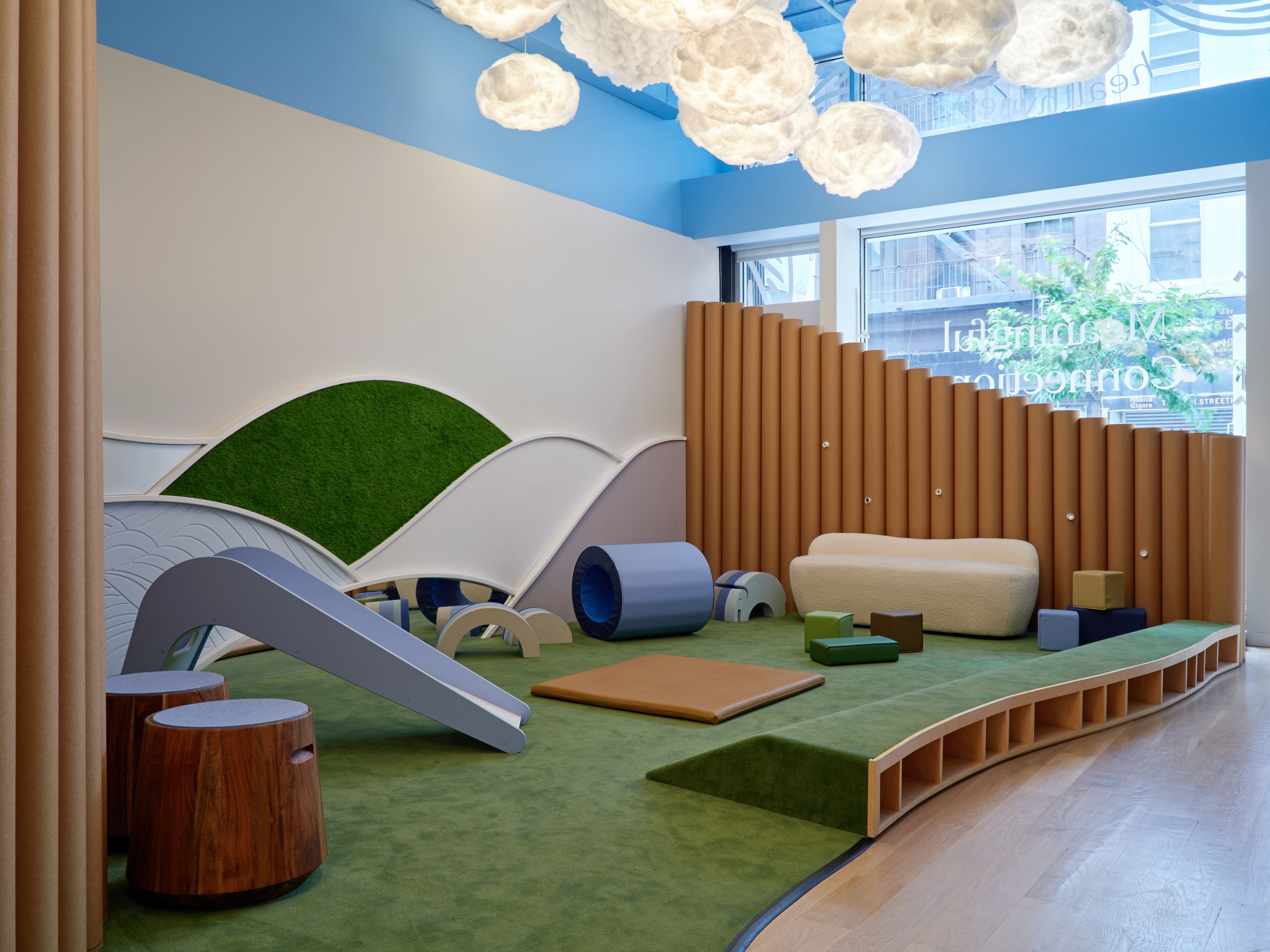 New York, NY—Alda Ly Architecture (ALA) has designed a new space for Healthybaby, the developmental health-focused baby care company. Located on Warren Street in the Tribeca neighborhood of New York City, the showroom and experiential playspace provides both support and a haven for new parents, complete with a baby play space, mother's room, diaper display and changing area and parents' lounge, while also showcasing product and hosting events. 
ALA's design is rooted in Healthybaby's mission to protect, enrich and support the full potential of every child. The design is implemented through a series of nested environments, inspired by the idea of the home as a nest, containing intimate spaces that nurture and support growth. The architecture is designed as a series of whimsical ​ and comfortable spaces that cocoon and surround guests, allowing them to form deeper and lasting connections between baby and community, and experience the products in a supportive setting. 
Four distinct programmatic areas—a baby play area, mother's room, diaper changing station, and lounge space—are defined by curving screens made of cardboard tubes set on a custom-cut curved frame to create nested environments. Designed with sustainability and flexibility in mind, these screens can easily be taken apart and reconfigured over time. With a vibrant bright green rug resembling grass, and a sky-blue painted ceiling with a cloud-like installation, the space recalls nature and sustainability— main tenets of Healthybaby's brand. 
Graphics narrating the story of Healthybaby and its products lead the visitor throughout the space. When parents and children enter, a graphic wall depicting key brand moments leads you to the hospitality niche, providing refreshments and snacks. On the right is the baby play area, the first space that they encounter which focuses on play activities to boost brain development. Along the perimeter, there is a custom shoe cubby shaped as a sloped berm, which serves triple duty as a child safety barrier, additional seating for parents, and a tummy time area for babies. The area is encircled by a series of undulating vertical tubes that incorporate viewing portals for children to look outside to the street level, as well as kaleidoscopic lenses. The baby play area also features a large three-dimensional expression of the company's signature wave pattern on the wall. Each section of the wave is crafted with different tactile materials, such as faux leather, velcro, rubber, sandpaper, boucle and mirror that encourage interaction. The lower sections are designed with a deeper frame that provide toddlers the ability to cruise along the wall. ​ 
Further into the space is a mother's room: an intimate space with two chairs where mothers can sit with a friend when nursing or pumping. Beyond the mother's room, a custom-designed diaper-changing station showcases diapers, and an adjacent wall with curved cubbies shaped like a wave displays the full suite of skincare, prenatal, and cleaning products. This wall also conceals the stroller parking and neatly tucks it out of the way. Lastly, a public lounge space is situated at the back of the space, and set up for parents to gather, host small events and connect with the larger community. 
Photography by Reid Rolls
Project credits:
Project Name: Healthybaby
Client: Healthybaby
Location: 21 Warren Street, New York, NY 10007 
Area: 1,307 SF
Program: Commercial
Design Architect and Interior Design: Alda Ly Architecture 
Design Team: Alda Ly, Tania Chau, Kelly Siekierka
Lighting Design: Sighte Studio
Contractor: Aerial Design & Build
Custom Fabrication + Printing: Wizard Studio
About Alda Ly Architecture
Alda Ly Architecture (ALA) was founded in 2017 when groundbreaking co-working platform The Wing tapped Ly to design its East Coast and California locations. ALA continues to serve a growing number of entrepreneurs and startups as well as established organizations looking to rethink traditional retail, healthcare, office, and cultural spaces. ALA is a recognized thought leader in biophilic design and has been featured nationally and internationally in publications such as Metropolis, Contract, Interior Design, etc.
The New York-based studio's long list of clients includes Bloomberg, Rent the Runway, ThirdLove, functional medicine provider Parsley Health, the retail platform Bulletin, and social-action technology firm Blue State Digital.
While ALA's projects range from those with multi-million dollar construction budgets to start-ups building their very first headquarters, they all share ALA's minimalist and playful design vocabulary, and seamlessly combine comfort, wellness, smart planning and fresh interior design concepts.
To arrive at these thoughtful, custom solutions, ALA treats each as an opportunity to foster a client's creativity. Because the studio often gives form to services and business models that have few spatial precedents, it starts each project with a discovery phase in which an organization's founders, team members, and users share their individual experiences with that brand; ALA's ethnographic research becomes the basis of programming and functionality, as well as concepts for layouts and finishes.
Ly and her team pride themselves on deep listening and hands-on collaboration in this process, and the studio is committed to expressing every commission's potential within the constraints of time and budget.
Alda Ly Architecture is a certified Minority and Woman-owned Business Enterprise (M/WBE) with NYC.
About Healthybaby
Healthybaby is the first brain-forward brand for expectant and new parents to navigate their baby's developmental health. Pairing enlightened, purposeful products with science-backed enrichment activities to encourage deeper emotional connection and optimal development of baby, Healthybaby was designed to enrich the fullest potential of every baby during the life-shaping first few years of baby's life. To learn more about Healthybaby, visit www.healthybaby.com.