Alda Ly Architecture Brings a Well-Curated Identity to Life for Athena Club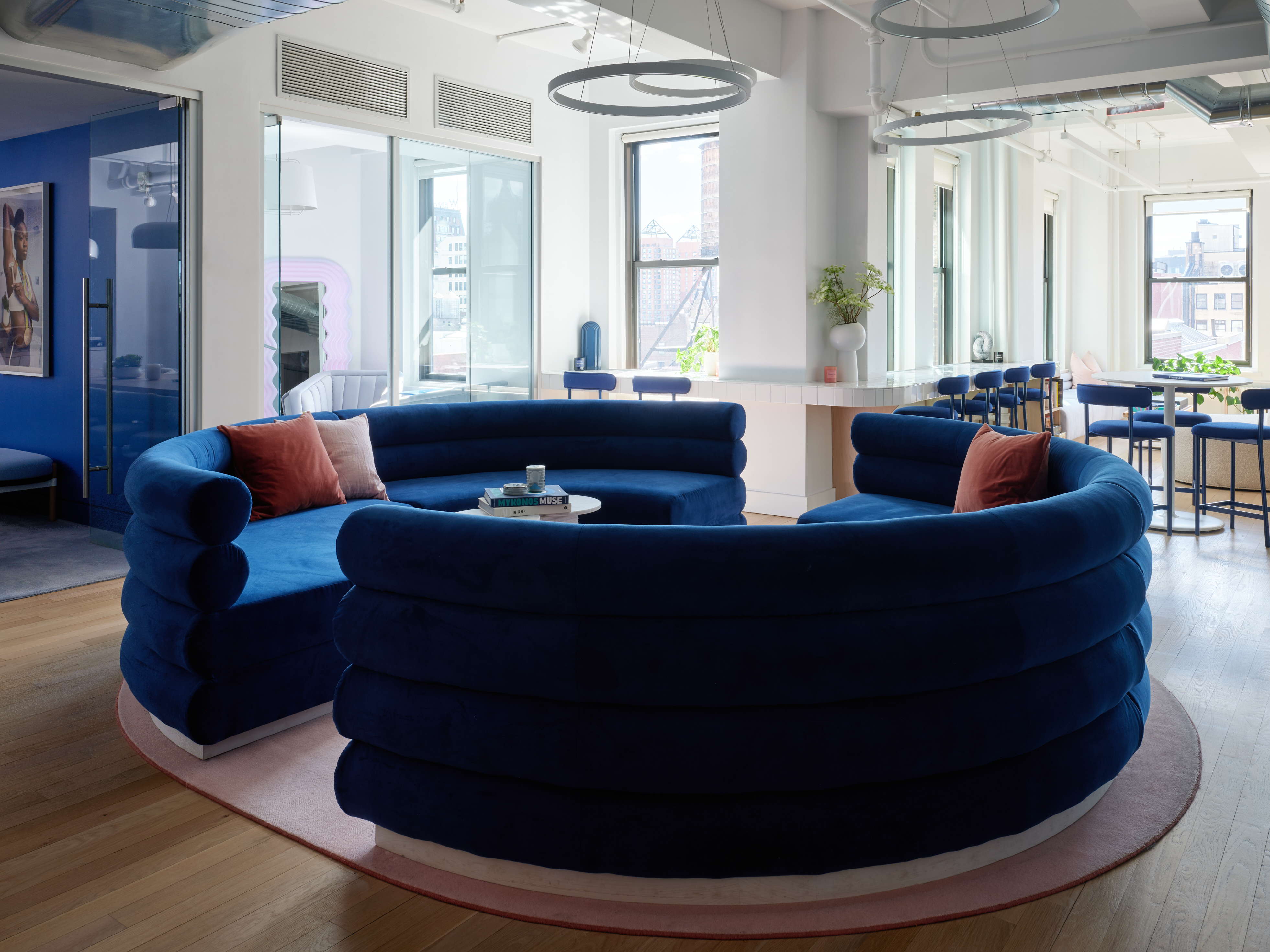 New York, NY — ALA has designed Athena Club's new 2,300-square-foot Manhattan headquarters, partnering closely with the self-care brand to translate their brand identity from paper to a welcoming space for working.
While ALA works on offices of all scales, with some spanning more than 20,000 square feet, Tania Chau, Director of Interior Design notes that in this case they transformed the space without changing the existing layout, saying that "We wanted to show what we can do with a smaller area and budget, through being really creative with finishes and furniture and without undertaking significant construction work." 
Athena Club originally achieved success in the direct-to-consumer mass retail razor market with the mission of "better made simple," and now delivers a range of high-quality, environmentally-friendly body care products at attainable prices. Before approaching ALA to fit out a new office space in Manhattan's Flatiron District neighborhood, the Athena Club team had meticulously developed its own strong visual identity: a distinctive color palette comprising bright and neutral tones spanning navy to soft pink; values and taglines surrounding wellness, honesty, freedom, fun, community and simplicity; and logos and patterns juxtaposing bold lines and shapes that form playful geometries.
 ALA drew inspiration from these brand expressions, using them as a jumping off point to carefully curate mood boards and craft a custom approach to bring the visuals to life. The resulting program begins with a bold lounge and product area upon entry, giving way to a large conference room, huddle room and an open workspace with a lounge, which collectively accommodate more than 30 staff.
 The entry combines a custom semi-circular channel back sofa by ROARKE Design Studio upholstered in navy velvet atop a pill-shaped peach rug by Warp and Weft. "Athena Club wanted something that felt very communal up in the front, and the custom sofa in their brand blue really makes a statement when you come in," says Chau. "We've been in the space and have seen staff use it to have meetings and it's a really great, casual gathering or huddle area."
 Because Athena Club often invites partners and buyers into their office, they wanted an area to display products front and center. ALA designed a custom millwork piece comprising a blue fluted arched niche with open shelves and a backlit logo set against white marble-look quartz with storage beneath.
 As the entry turns the corner into the main open workspace, the designers identified an opportunity to integrate counter and seating areas along a light-washed wall that enjoys views of a neighboring water tower—a classic New York moment. A white-tiled counter with on-brand light blue grout and upholstered rich blue stools wraps along one side, transitioning to a built-in pale blue banquette faced by a curved white Modshop boucle sofa to define a lounge area.
 "The client wanted to have a place where people could sit and have lunch or use it as a casual workspace, so we thought that would be a great place to put a counter and look outside," Chau says. "We ran the counter around the corner to the other side so it connects that space to the main workspace."
Athena Club's office design marked ALA's first foray into creating a custom workstation set. The firm collaborated with a local Brooklyn millworker to fabricate three rows of workstations that feature a triple-fluted arched leg echoing the detail used in the entry area. "The shape is really beautiful and is a subtle nod to a repeating design motif in the client's brand,," observes Chau. "If you pick a standard workstation product, you won't get that elegant shape in the furniture or the leg."
Meeting rooms and a private office received tailored touches that blend brand cues with employee comforts. In the large conference room, ALA made smart reuse of existing elements left behind by previous tenants, including simple ceiling pendants and media storage millwork, while infusing the room with a strong sense of brand via bold blue walls and large scale digital posters of Athena Club imagery displayed on Samsung Frame TVs. ​ Rove Concept's Mia Chair adds a distinctive look to the room, and is paired with an oak Union Wood Co. Radius Conference Table. Casala's Capsule benches upholstered in light blue line the walls, adding a pop of contrast as well as additional seating capacity. ​ 
A three-person meeting room next door contains cozy swivel armchairs with laptop tables around a marble coffee table. Around the corner a private office accommodates the CEO, with a sleek freestanding desk, Eames soft pad leather desk chair, and a curved lounge chair that ​ lends the room a sophisticated yet functional feel. All of the meeting spaces and office feature new wall to wall deep pile carpeting from Warp & Weft in a luminous pale blue with a hint of sheen.
 These touches are more important than ever in the post-Covid office design landscape. ALA has observed clients seeking shorter-term leases and focusing on providing amenities that staff will appreciate: "We're bringing a mix of aspects that they can get at home, like comfort and convenience, and also aspects that they can't get, like social spaces and a dedicated work area," says Founder and Principal Alda Ly. "For our workplace projects, the most important part of our process is to listen and help them understand why they need an office so we can design the most successful space for them in this hybrid world."
Photography by Reid Rolls:
Project Credits:
Client: Athena Club
Address: 915 Broadway, Suite 1408, New York, NY 10010
Interior Design: Alda Ly Architecture PLLC
Project Team: Alda Ly, Principal; Tania Chau, Director; Michaela Delasanta, Designer; Marlee Anderson, Designer; Micah McKelvey, Designer
General Contractor: Darby Construction Services
Millworker: Elephant Custom Furniture
Workroom: Prestige Furniture & Design
Signage: Velement Worldwide
Photography: Reid Rolls 
Materials and Finishes:
Entry:
Custom Sofa - Design by Roarke Design Studio, made by Prestige F&D
Arched Display Millwork - Elephant Custom Furniture
Backsplash - Silestone Et. Statuario
Backlit sign - Velement Worldwide
Rug - Warp & Weft Lori Prism rug in Cipria
Lighting - Urban Electric Co. Push Sconce in Sapphire Blue
Conference Room:
Chairs - Rove Concept Mia
Table - Union Wood. Co Radius table
Whiteboard - Clarus
Benches - Casala Capsule Bench in Febrik Gentle -0733, 0783
Huddle Room:
Armchairs - Casa Magna Caprice Swivel armchair
C-table - Stylex Trim Task table
Private Office:
Desk - CB2 Ridge Bleached Oak Desk
Desk chair - MillerKnoll Eames Soft Pad Side Chair, Armless
Guest chair - Rove Concepts Nova Lounge chair
Storage - Muuto Modular Shelving System in Midnight Blue
Workstation Area:
Workstations - custom, made by Elephants Custom Furniture
Chairs - Kinnarps Capella chair high black in Camira Xtreme in Rum
Dividers - Buzzispace Buzzishield Desk in BuzziVelvet in Blush
Mobile Pedestal - Branch Furniture Small Filing Cabinet
Staff Lounge:
Tile: Nemo Tile Metro
Grout: Starlike EVO
Bar Stools - Mobel Font Light bar stools
Counter height table - Stylex Obair Round table
Sofa - Modshop Sag Harbor sofa
Side Tables - Gallotti & Radici Cookies
Planters - Ferm Living
Custom banquette - Prestige F&D with Elephant Custom Furniture