Alda Ly Architecture Designs Lazy Sundaes, a Cafe in Brooklyn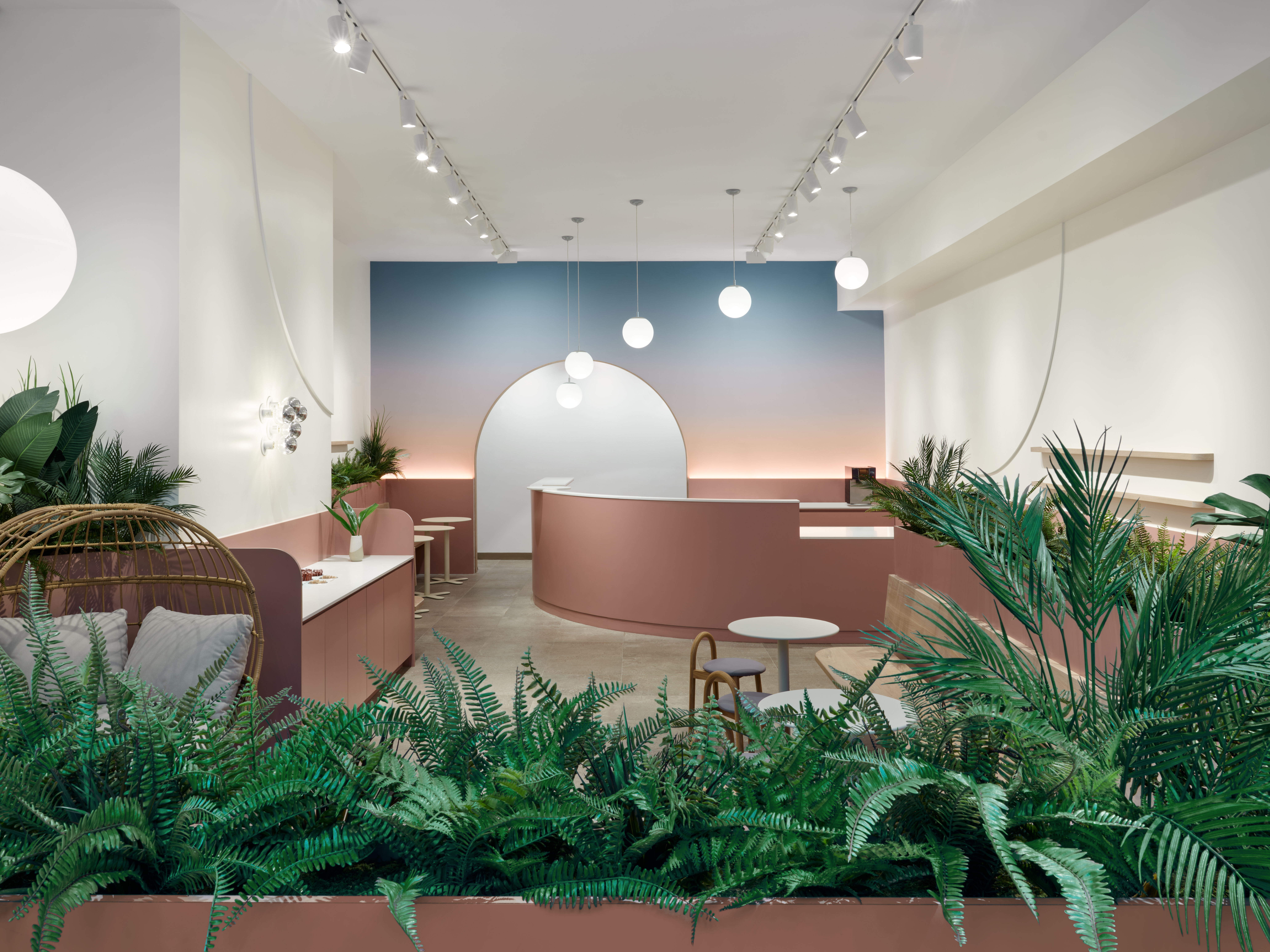 Brooklyn, NY—Alda Ly Architecture (ALA) has designed the new Brooklyn flagship location of Lazy Sundaes, a beverage cafe serving Korean bingsoo sundaes (shaved ice) and bubble tea. This is the fourth location for the popular cafe, but the first in which they teamed with an architect/designer – to transform the space to make it more customer-friendly by increasing seating and providing an ample space to watch their favorite desserts being made, while also increasing the efficiency and comfort of the employees. 
"The design concept explores the idea of a 'Lazy Sunset'—that feeling you get when you find the perfect sunny spot on a Brooklyn fire escape or golden hour in a park with friends on a sleepy summer afternoon," says ALA founder and principal Alda Ly. "We wanted to design a slow and calming atmosphere for people to settle in and enjoy their time spent in the cafe." The wall at the back of the space depicts the sunset, which is a Calico wallpaper that transitions from lavender to warm pink, and sets the tone for the entire customer experience. Surfaces are covered in blush color laminate, which echoes the Lazy Sundaes brand color and further immerses the cafe in a rosy hue, forming a datum around the entire space from the entry, to the planters, to the service wall. 
Upon entering the space, the main dining area is sunken about 1-foot below the sidewalk level, providing customers an impressive bird's eye view of the whole space upon arrival. The entry landing is reminiscent of an outdoor ​ patio, and is made of wood-look vinyl plank flooring complete with lush tropical faux plants that carry through the entire space and engulf customers in the feeling of being outside.
From here, customers can choose to use the self-service kiosks that are integrated into planters, or they can meander down the ramp to order at the bar. A small area for retail products is placed along the wall at the bottom of the ramp and near the cashier. 
The overall space is carved out of a series of soft curves, from the custom serpentine benches at the front of the space to the counter and arches in the back service area, subtly referencing the rounded shape of boba clusters and influenced by the experience of a lazy river. The curves of the cafe seating create playful moments for socialization. The curve of the service bar helps to guide the flow of customers, allowing them to follow along as their favorite drink or dessert is concocted.
The cafe area at the front of the space carries the concept of being outdoors on a deck, and uses a combination of outdoor patio furniture, and floor materials that appear to resemble crushed gravel or pavement. The lighting pendants above the cafe area and wall sconces take inspiration from the shape of the rounded boba pearl, while hanging pendant lighting above the bar mimics the arc and pathway of the setting sun. The serpentine benches made of white oak create a continuous seating arrangement and allow for large groups to convene and spill over when the white metal tables and round stools are moved. There are also two sphere-shaped wicker chairs in the cafe seating area that create a fun and playful moment, while also providing the feeling of lounging on a patio.
At the back of the space, the curved bar, which is positioned to guide customers through the drink-making process, is also designed to improve efficiency for employees. ALA traced Lazy Sundae's staff's movements as they made different food and drinks throughout the day at their previous location, observing that the process for making these drinks and desserts relied heavily on a non-linear assembly line, similar to a cocktail bar. ALA then organized the spatial layout based on movement patterns and equipment needs at different stations, ensuring that staff had enough room to operate fluidly. 
Says Tammy Na, Lazy Sundaes Co-Founder, "I'm thrilled to be able to share a piece of Lazy Sundaes in a neighborhood that holds a special place in my heart. Not only is it an iconic NYC neighborhood but it's also a neighborhood that I called home for four years, with my now husband and our lazy pets (one of them being the inspiration of our mascot!) The creativity and the energy of the neighborhood was what drove me to start conceptualizing Lazy Sundaes so being able to open in DUMBO feels very full circle. We hope our DUMBO location can be a little escape in our customers' bustling day!"
Photography by Reid Rolls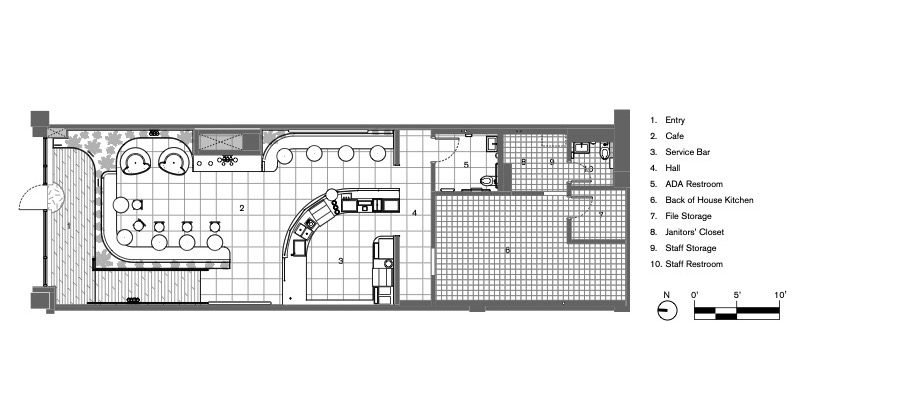 Project Credits:
Client: Lazy Sundaes
Address: 170 Front Street, Brooklyn, NY 11201
Architecture and Interior Design: Alda Ly Architecture PLLC
Project Team: Alda Ly, Principal; Marissa Feddema, Director; Tania Chau, Director; Michaela Delasanta, Designer
General Contractor: Aerial Design & Build
MEP Engineer: EP Engineering
Lighting Designer: Sighte Studio
AV/IT Consultant: Sound Solutions
Greenery: Thrive Plants
Photography: Reid Rolls
Materials and Finishes:
Throughout:
-Paint by Benjamin Moore in Mayonnaise 
-Formica in Blush (Laminate)
Entry: 
-Mannington Spacia in New England Oak (Luxury Vinyl Tile Flooring)
Cafe:
-Daltile Museo in Natural Grey (Floor Tile)
-Custom serpentine benches made out of curved pieces of white oak
-'Boba-shaped" wicker chairs 
-White metal tables and oak stools with upholstery in Apt by Maharam in the color Charm
-Silver-tipped light bulbs by Sunlite 
Service Bar:
-Stone countertop made of Caesarstone Classico in Eggshell 
-Aurora in Ray by Calico (Wallpaper)
-Light pendants by Viso Lighting 
Restroom:
-Nemotile Subway Tile in Lilac (Wall Tile)
-Custom Wallpaper fabricated by Detroit Wallpaper, designed by the client featuring Lazy Sundaes mascot, "Frankie," the client's cat!
About Alda Ly Architecture
Alda Ly Architecture (ALA) was founded in 2017 when groundbreaking co-working platform The Wing tapped Ly to design its East Coast and California locations. ALA continues to serve a growing number of entrepreneurs and startups as well as established organizations looking to rethink traditional healthcare, retail, office, and cultural spaces. ALA is a recognized thought leader in biophilic design and has been featured nationally and internationally in publications such as Metropolis, Contract, Interior Design, etc. The New York-based studio's long list of clients includes Bloomberg, Rent the Runway, ThirdLove, functional medicine provider Parsley Health, the retail platform Bulletin, and social-action technology firm Blue State Digital.
While ALA's projects range from those with multi-million dollar construction budgets to start-ups building their very first headquarters, they all share ALA's minimalist and playful design vocabulary, and seamlessly combine comfort, wellness, smart planning and fresh interior design concepts. To arrive at these thoughtful, custom solutions, ALA treats each as an opportunity to foster a client's creativity. ​ ​ ​ ​ ​
Because the studio often gives form to services and business models that have few spatial precedents, it starts each project with a discovery phase in which an organization's founders, team members, and users share their individual experiences with that brand; ALA's ethnographic research becomes the basis of programming and functionality, as well as concepts for layouts and finishes. Ly and her team pride themselves on deep listening and hands-on collaboration in this process, and the studio is committed to expressing every commission's potential within the constraints of time and budget.
Alda Ly Architecture is a certified Minority and Woman-owned Business Enterprise (M/WBE) with NYC. 
​ ​ ​ ​
About Lazy Sundaes
Lazy Sundaes is a WOC-founded and owned small business with locations in New York City. Our cafes specialize in Korean Bingsoo Sundaes (shaved ice), bubble tea, and matcha drinks with fun & bold flavors inspired by the founder's favorite childhood flavors. All our menu items are made with high-quality ingredients and are vegan-friendly. At Lazy Sundaes, we believe in celebrating the small victories and aim to be a refuge from the bustle of your day.